Lhasa to Everest and Kailash Group Tour 15 days
Why our Group tour is different from others:
You will meet a local expert over dinner and he will talk to you about local history, culture, religion, and tradition
You will visit a nomad family and spend a time to learn about their life as a nomad
You will visit a local Tibet handicraft production center, where you will see local craftsmanship. ( we will not force anyone to buy any product during the tour)
Authentic experiences in Tibet
Our guide and drivers are all Local Tibetan trained with first aid and basic necessary skill for the successful tour
We want to help a local business that is why all our group tour will stay in a very comfortable local Tibetan Hotels. All of the local Hotels are owned by Tibetan and hence would enhance the experience of being with a Tibetan family.
Experiences:
Visit the holy Mt Kailash  and Mt Everest base camp in Tibet side
Drive through the western wilderness of Tibet
Visit the to some of the most popular Tourist destinations in Tibet including Potala palace and Mt Everest Base camp
Three days trekking around the Mt Kailash along with hundreds of Hindu devotees
Enjoy the local Tibetan delicacy and hospitality during your stay in Tibetan Family guest house
October to February
100 USD for Single Supplement
April to June
100 USD for Single Supplement
July to September
150 USD for Single Supplement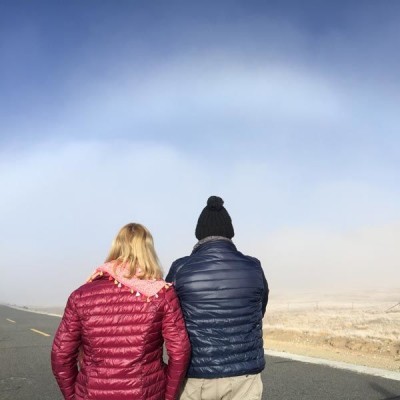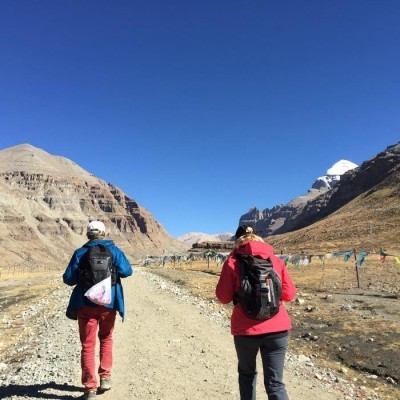 This Lhasa to Everest and Kailash Group Tour will be initiated in the Holy city and it will take you to the holiest Mount in the world, The Mt. Kailash. The journey will start at the Lhasa. The group will spend first three days in the city for the getting proper acclimatization and visit the marvels in Lhasa.
You will then drive across the Plans of Central Tibet to the wilderness of western Tibet. Along the way, you will visit the most prominent tourist destinations including Gyantse and Tashi Lhunpo monastery in Shigatse.
At the Mt. Kailash, you will have a three days of trekking around the Holy mount along with the devoted Buddhist and Hindus as well.
Our group journeys are a great way to travel economically in Tibet with a small group of people. They are ideal for solo travelers who are looking to share costs of a journey to Tibet or a small group looking to travel with others. Our group tours are high-quality and are led by our expert local Tibetan guides
Best suit for everyone
Brief Itinerary
Day 1: Arrival in Lhasa,  Elevation: 3600 meters
Day 2: Lhasa guided tour
Day 3: Lhasa guided tour
Day 4: Lhasa—Yamdrok Lake—Karo La Glacier— Gyantse — Shigatse, Distance: 354kms Elevation: 3840m
Day 5: Shigatse to Latse Distance 150kms Elevation: 4200m
Day 6: Latse —Saga, Distance: 340Kms Elevation: 4500m
Day 7: Saga To Manasarovar Lake 520kms Elevation:5000m
Day 8-10: Kailash Trek Distance: 54kms Max Elevation: 5630m
Day 11: Lake Manasarovar—Saga Distance: 897kms Elevation: 4500m
Day 12: Saga — Mount Everest Base camp  Distance: 493Kms  Elevation:5200m
Day 13: Everest Base Camp to Shigatse Distance: 350kms Elevation: 3840m
Day 14: Shigatse—Lhasa  Distance: 260kms  Elevation: 3600m
Day 15: Depart Lhasa
Day 1: Arrival in Lhasa,  Elevation: 3600 meters
When you arrive in Lhasa, you will be greeted by our guide and will escort you to your hotel. It is highly recommended to take a good rest and try to avoid heavy works. Later you can wander around the Barkhor street. it is an Ancient Tibetan market surrounding the Jokhang temple and it is a popular destination both tourist and pilgrims.
Day 2: Lhasa guided tour
You will explore the Jokhang, the holiest Buddhist temple in the Himalaya's. Founded nearly 1400 years ago, Jokhang Temple houses the most sacred statue of Buddha. You will work your way through this fascinating temple alongside Buddhist pilgrims from the faraway regions of Tibet. The sound of pilgrims chanting mantras fills the air as does the smell of yak butter candle offerings.
In the Afternoon we will visit the Potala Palace, Tibet's most iconic building. Towering above Lhasa with more than 1000 rooms, the Potala Palace served as the winter residence of the Dalai Lama's for hundreds of years. After lunch, you will go to Ramoche Temple, another of historic Temple in Lhasa.
In the evening, participate in an inspirational and enlightening talk by a renowned local Tibetan expert over a dinner. The theme varies between tradition and culture, architecture and festivals, costume and Tibetan symbols. Speakers are experts from Tibet University, Academic of Social Science or  Tibetan Traditional Medical.
Day 3: Lhasa guided tour
Today we have a very special arrangement for you. We will visit a Tibetan family in their village home and we will visit the nomad camp above the village. During this visit, you will be joined by one of our office staff to arrange proper in-depth conversation with Tibetan villagers about their life, culture, and spiritual life.
After the family visit, we will visit the600 year old Sera, one of Tibet's largest Buddhist monasteries. Each weekday afternoon starting at 3pm, monks engage in Buddhist philosophy debates, which are fun to photograph. After the monastery is a visit to Shol Tolpa Handicraft center to see and learn about the extraordinary array of authentic Tibetan traditional and contemporary crafts, like Tibetan pottery, Thangka painting, sewing work, paper arts, and Buddhist statue fabrications. Get an up-close-and-personal look at the selected materials, elaborate design, and color matching strategies.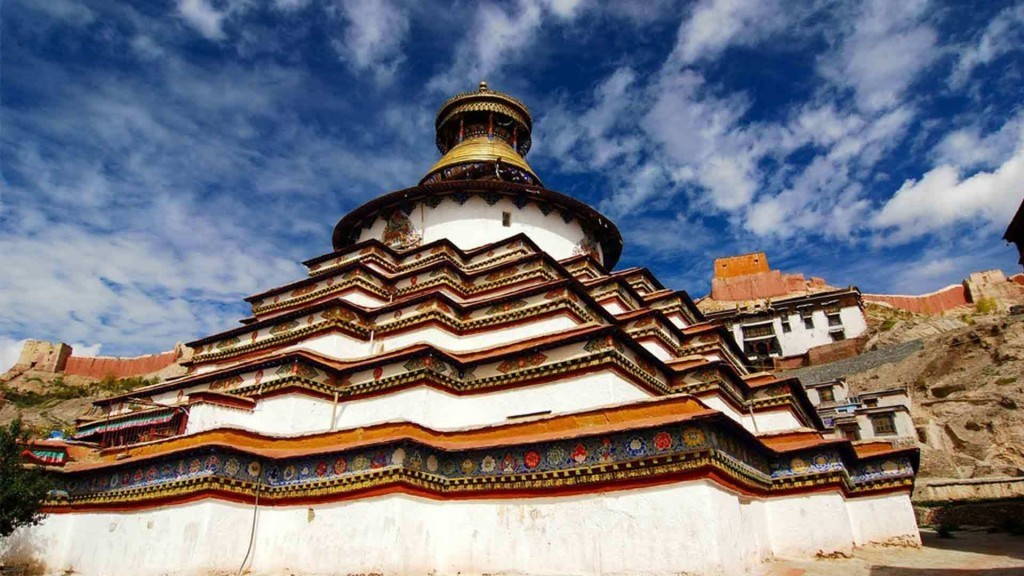 Day 4: Lhasa—Yamdrok Lake—Karo La Glacier— Gyantse — Shigatse, Distance: 354kms  Elevation: 3840m
In the early morning, you will depart Lhasa and drive to Yamdrok, one of Tibet's most beautiful lakes.  From the lake, you can see the 7191-meter peak of Nojin Kangtsang in the distance. You will then travel along the lakeshore and drive up to the amazing Karo La Glacier before arriving in the town of Gyantse. 
In Gyantse, you will visit the Pelkhor Chode Monastery where you can see the largest stupa (Buddhist pagoda) in Tibet. From Gyantse, you will then make the short drive to Shigatse, Tibet's second-largest city. Between Gyantse and Shigatse, you will stop at a couple of traditional farming villages. In Shigatse, you will explore the large monastery complex of Tashi Lhunpo.
Day 5: Shigatse to Latse Distance 150kms  Elevation: 4200m
From Shigatse, you will continue driving through the rugged and beautiful landscape of central Tibet. During this 3 hour journey, we will drive trough the wilderness of Tibet. We will also visit the great Sakya monastery, the principal seat of Sakyapa lineage of Tibetan Buddhism. these Mongolian style structures are very different that what you will see in Lhasa region.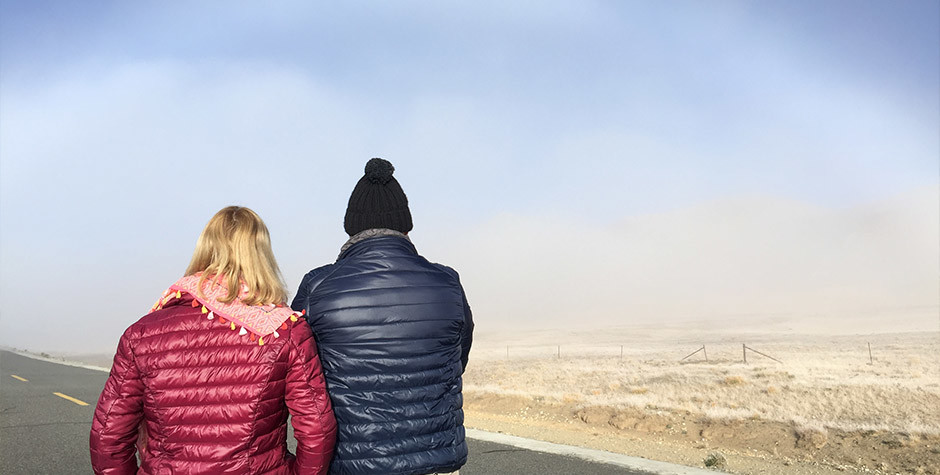 Day 6: Latse —Saga, Distance: 340Kms Elevation: 4500m
Today we will drive 340 kilometers of wilderness and if we are lucky we might spot some wildlife or beautiful landscape with the heavenly display of light.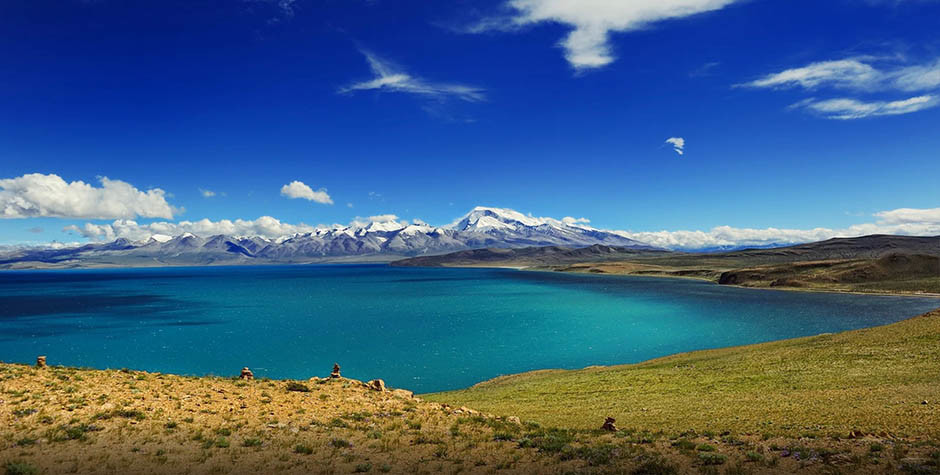 Day 7: Saga To Manasarovar Lake 520kms Elevation:5000m
This Day marks the beginning of wild western Tibet. We will surely have a spectacular view of Tibetan Plateau landscapes, We will drive along the Yarlung Tsangpo river. we will stop at the Manasarovar lake. the lake is one of the three holiest lakes in Tibet. Hindus believe taking bath in this holy lake could wash away sins from many lives. I would recommend travelers to take a little opportunity of sit in silence and Mediate for sometimes. After the Manasarovar, we will continue Darchen. the Base camp for Kailash trekking. We will take a good rest for the trekking tomorrow.
Day 8-10: Kailash Trek Distance: 54kms  Max Elevation: 5630m
The first day of our trek will take us 20 kilometers from Darchen around Mt. Kailash to Dira Puk Monastery. You will follow this ancient pilgrimage route with Tibetan Buddhist and Indian Hindu pilgrims. You will stay in a small guesthouse near the monastery. The elevation of Dira Puk Monastery is 5080 meters.
The second day of our trek around Kailash will take us up and over the Dolma La Pass, the highest pass on the circuit at 5630 meters. Excellent mountain and glacier views will follow you for most of the day. From the Dolma La Pass, you will descend to Zutul Puk Monastery, elevation 4820 meters. The total trekking distance this day is 18 kilometers
The third and final day of our trek will cover 14 kilometers from Zutul Puk Monastery back to the town of Darchen. After the trek, we will return for one final night along the shores of scenic Lake Manasarovar.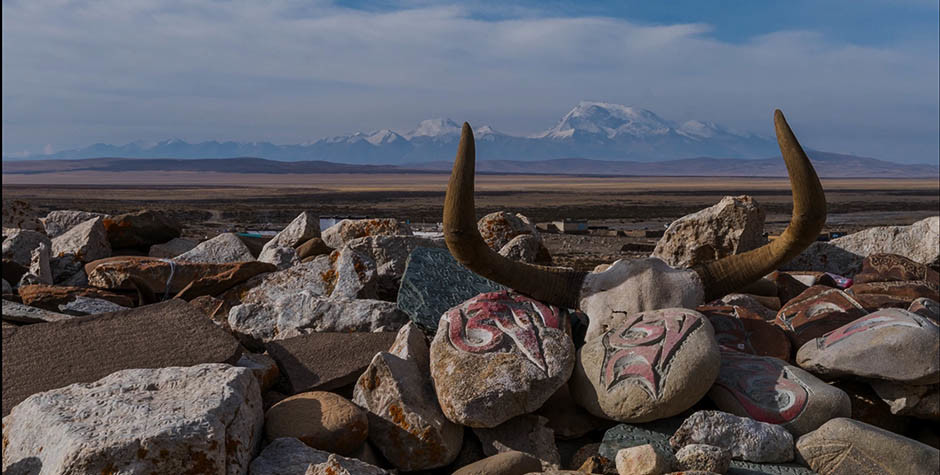 Day 11: Lake Manasarovar—Saga  Distance: 897kms Elevation: 4500m
We will travel back the Saga along with the same route.
Day 12: Saga— Mount Everest Base camp  Distance: 493Kms  Elevation:5200m
Today we are driving to the Rongbuk monastery and walk to the lap of the mighty Mount Everest.  At the Pang-la pass we will have a distance view to some of the highest peaks of the Himalayas and the world; Makalu, Lhotse, Cho Oyu, and the Mount Everest. we will take the zig-zag route to the mount Everest base camp. we will stay a night in Tent guest house near Rongbuk monastery.
Day 13: Everest Base Camp to Shigatse Distance: 350kms Elevation: 3840m
After watching the sunrise on Mt. Everest, you will begin the journey back to Shigatse. You will stop at some farming villages as well as the small farming town of Lhatse. You will arrive in Shigatse with enough time to explore the main market street there or to hike the pilgrimage path at Tashi Lhunpo Monastery again.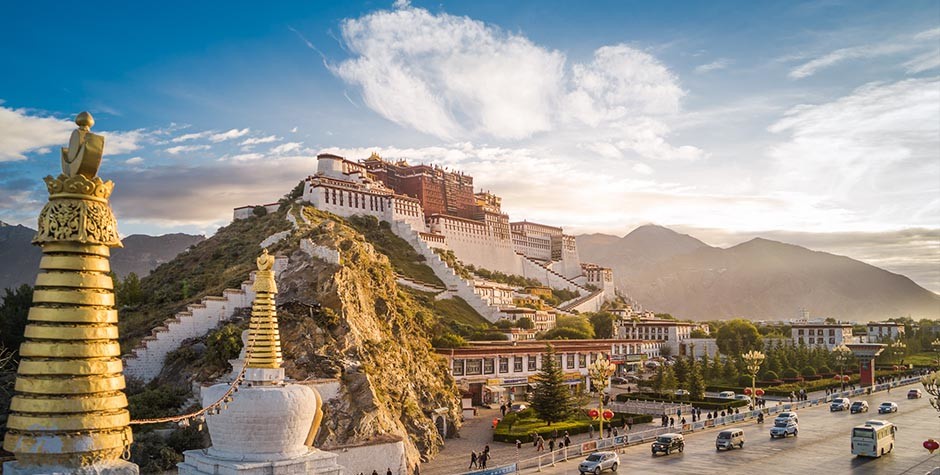 Day 14: Shigatse—Lhasa  Distance: 260kms  Elevation: 3600m
The last full day of your Lhasa-Everest and Kailash group tour will take you back to the Tibetan capital city of Lhasa. You will arrive with enough time to do any last minute souvenir shopping and to walk the pilgrimage circuit around Jokhang Temple one more time.
Day 15: Depart Lhasa
In the morning, you will be transferred to the Lhasa airport or train station to depart Tibet.
| Departure date | Price | Tour status |
| --- | --- | --- |
| 15th April | 1500 USD | 2 booked |
| 22nd May (Saga Dawa Tour) | 1500 USD | 2 interested |
Single Supplement Cost: 100 USD
For the Accommodation in Lhasa, and we will arrange accommodation in Twin bedrooms. Hence if you would like to stay in a single room by your own self or if we are not able to find you a roommate. The client is supposed to pay the Extra Expenditure for the single room.
Pick up and drop off
Airport pick up and drop off
Lhasa Airport is over 75kms from the downtown and we will have to have a guide to pick you up at the airport, which makes it impossible to provide the Airport pick up and drop off service at any given time. So we are only able to provide free pick once in a day on the arrival date and one drop off a day on the departure day.

&nsbp

Free pick up at the airport on the first day of the itinerary:
Our guide will leave Lhasa airport by 12:20 PM. please be join at this time for free pick up. If the flight is delayed, we can arrange another private pick up, with extra cost.

&nbsp

Free drop off at the airport on the last day of the itinerary:
Our guide will arrive at the hotel at 11:00 am. take all the group members to the airport. it is recommended to book a flight which leaves after 13:30 PM. If the flight is before 13:00 PM, we can arrange another private Drop off, with extra cost.

&nbsp

Special pick up and drop off arrangement
If you would like us to make special arrangement to pick you up or drop you off we can do it with extra cost.The price for extra drop off or pick up in shuttle bus is 50 USD per person per route.The price for extra drop off or pick up in the Private vehicle is 2 USD per kilometers.

&nbsp

Train Station pickup
We can provide one free pick up a day on the arrival date at the train station that is 12-13 pm. Please book you train ticket to arrive on this time.If the clients would like to have a private pick up at the train station the extra cost for a pick up is 83 USD.  We will have to arrange a car and guide with guide license to pick you up.

Tour Booking

Please book the tour a month before the real date of visit. I need at least 17 days to process the Tibet Travel Permit
The copy of your Passport and the Visa has to be clear enough to read all the letter on it. The copy of passport must be of the passport one which you have or have your visa on.

Please read this page for clear concise information about traveling to Tibet and thing to do before traveling into Tibet.

Remember coming in from Nepal and China is different. if you are coming from Nepal (flight or overland), you need to have visa applied for PRC Embassy in Kathmandu. We will send your visa invitation to friend agency in Nepal.

For other terms and conditions please follow https://itibettravel.com/booking/
Traveler Reviews brought to you by
itibet travel, Lhasa

1 Dan Jie Lin Lu, Chengguan Qu

,

Lhasa

850000

,

China
44 Reviews
Ranked #16 of 41
Outdoor Activities in Lhasa
TripAdvisor Traveler Rating:
true
Recent Reviews:
These reviews are the subjective opinions of individual travelers and not of TripAdvisor LLC nor of its partners.
© 2017 TripAdvisor LLC
Tour Price Includes
All necessary travel permits to Tibet

Entrance ticket fees for all the sight spots listed in the program

Private transportation in Tibet: Comfortable tourist van for the whole trip, (car gasoline is included)

Private guide: English speaking local Tibetan guide

Lodging: 4 nights at Trichang Labrang hotel in Lhasa, 2 nights in  Gesar Hotel in Shigatse, 7 nights at local Guest Hostel and 1 night at the Mount Everest Base camp.

Pick-up and send-off services at the beginning/end of the tour for one time for the group, additional pick up and drop off will charge separately

Breakfasts in hotels only.

Lodging and meals for guide and drivers.

Travel agency liability insurance.

First aid kit in the Car.
Tour Price excludes
Travel insurance covering trip cancellation and emergency evacuation (recommended).

Expenses of a personal nature (alcoholic beverages, laundry, phone call, etc.).

International and domestic flight/train.(Note: we accept flights and train tickets bookings in advance, please check  the updated cost and ticket availability with your travel consultant).

Meals that are not specified in the itinerary (Averagely a meal in Tibet cost USD5 per person).

Gratuities for the guide and driver.
Responsible Tourism
We are fully committed to responsible and Sustainable tourism practice in Tibet. We have a privilege to be able to host you in Tibet, yes we also understand that we have a responsibility in protecting and contributing back to nature and our local follow people and economy.
We are a Local Tibetan travel agency in Lhasa.  Our agency is 100% staffed with local Tibetan tourism professionals. We only hire local Tibetan guides and other tours crews. We used service from local business only. 100% of the travel money goes to local Tibetan families where you are visiting. We use 20% of the net profit into Environmental conservative projects with local governments and individuals.
We are all born in Tibet. We know how important Tibetan environment is for the eco-system of the entire world. We will love of mountains, glacier, and rivers. We will do our best to reduce environmental impact from your tours in Tibet.
Following are Our ways:
No Plastic Bottles in the tour
We will provide your drinking water in a bigger container, each and every traveler are request to bring their own reusable water bottle. In this way, we can reduce hundreds of water bottles each tour against few big container, which we can later reuse.
Incentives on guide and Driver 

xxx 

We provide incentives to our guides and drivers base on their initiatives in conserving the natural environment. We often decide not to hire guide how are unethical toward sustainable and responsible tourism.
Staff Training every winter
Winter is a low season in Tibet tourism, we always use this window of opportunity provide skills required for Responsible tourism, Sustainable tourism practice, first Aids and emergency first responder training. One of our managers is certified Humanity Supply Chain management from by fritz institute. We also work closely with individuals from Tibetan Village project, Tibet Eco Travel initiatives and Local Tibet Red Cross society and other NGOs.
We plan a tree for every three tours.
Every spring we plant trees

  

for every three tours we organize in Tibet. Tibet's weather is very harsh for a young sapling to grow with a help. So we would buy the trees and ask local farmers to adopt trees. We Tibetan consider planting a tree helps themselves in holistically. So far are we are very successful in planting trees against the small number of tours we organize. We hope in future we will work closely with local government to plan trees with their help.
Smaller group size
We do not believe in touristy tours for Environmental Impact. Traveling in groups of small numbers has less impact on committed in an area than traveling in the 60s to 70s people together. So all our tours are less than 12 people normal road travel and less for trekking tours
Trekking tours and environmental care in the wilderness of Tibet
During your trekking in Tibet, you will be walking across a very fragile ecosystem.

  

We do take extra care in our trekking tours preventing environmental effects. Following are how are take care of our environment our trekking tours.
We nothing leave mother behind.
We make sure we take all our rubbish and leave nothing behind.
We protect the grassland
A little destruction on Tibet's fragile environment is irreversible. So, in the trekking tours we will not make drainage surrounding your tent, rather we will provide trekkers with a better tent with bathtub style floors to prevent rainwater getting into your tent. We will not dig the grassland and put small tent to make a toilet. Even when we try to the put the grass back, it is not the same. So when you are answering your nature called please enjoy the nature. Maybe you are you will not enjoy the natures call in the wilderness for sometimes.
Collecting the garbage along the way.
We have a saying in Tibet, if you can't help, don't harm. Here is our helping part. We always extra yaks carrying the Garbages, our yak men will be collecting while waiting for the clients at the campsite. Yak man walks faster than all and they have a free time at the camp. While cook prepares for meals and drinks, We pay yaks men's incentives in collecting the rubbish around the camp.
We always identify our business as a social enterprise. We dedicate 30% of our annual net profit to Social and environmental projects. Every winter we will buy a huge amount of winter cloth from the market for small children to donate to schools. In this way, we are providing the warm winter cloth for children and encouraging them to go to school.
Any purchase related to business, we do with the local business. We also encourage travelers to purchase the products directly from the local producer, which is why we always trees for guide to take the visitor to the local handicraft centers and producers.
Whenever there is someone need for medical help. Our company staff member would gather money for it. The management has decided how much ever is donated by our staff, Company will double that amount by donating the equal amount, what has been collected from the staff's members. And all our staffs are very generous.
We always inform all our clients about local customs, beliefs, and ethics. So that it would be easier for our home visit, and culture programs.