Attractions of Tour to Everest north base camp:
Potala palace, Jokhang Temple, Norbulingkha (the Summer palace), Sera monastery, Drepung Monastery, Nechung monastery, Ganden monastery, Drak yerpa hermit, Yamdrok lake, Gyantse monastery, Tashi lhunpo monastery, and Namtso Lake (optional)
Experiences:
Experience local Tibetan life by participating in their life.
Visit all the cultural and architectural marvels of Tibet.
In Lhasa you can eat and drink tea with locals and take part their group dance in the park.
Visit all the attractions of Tibetan civilizations to greatest of the great building in Tibet.
Learn about the basic teaching of Buddha from your Tibet tour guide.
Drive along the mighty Yarlung Tsangpo river.
Central Tibet tour -Central Tibet tour consist the journey to all the most popular travel destinations in central Tibet. Your tour will start from your arrival in Lhasa, immediately you will transfer to Tsetang for the low altitude and the place is better for acclimatization. First day will be free day for you.
On Second Day you will be visiting Samye the oldest monastery in Tibet and Yungbulakhang in Tsetang. You will then travel to Lhasa for the night. For next two days, you will be exploring the marvels of Lhasa and Daily life of local Tibetans in Lhasa. you will stay in Lhasa for three days and on the fourth day you will go ahead your tour towards Shigatse.
On your way from Lhasa to Shigatse you will be visiting Beautiful Yamdrok Lake, monastery of Gyantse and its fort. You might become interest in visiting the handicrafts in Gyantse where Locals makes Tibetan cloth which never grows old. In Shigatse you will visit the Tashi Lhunpo monastery and the Tibetan Handicraft.
After Shigatse you will be returning to Lhasa. Back in Lhasa you will be visiting Ganden monastery, at about 80 Kms and you will also visit the Drakyerpa hermit on your way to Ganden. If you would like we can make arrange a visit to Tibetan Nomad and meals with them. you can also camp near their Tent.
Best suit for: Families, Elders, Wanderers,
Day 1) Arrival and acclimatization:
Arrival in Lhasa airport, your guide and the driver will be receiving you with Khata (Tibet white scarf, which is a traditional welcoming gesture.) You will then be transfer to your ***hotel in Tsetang.
Day 2) Sightseeing the Tsetang: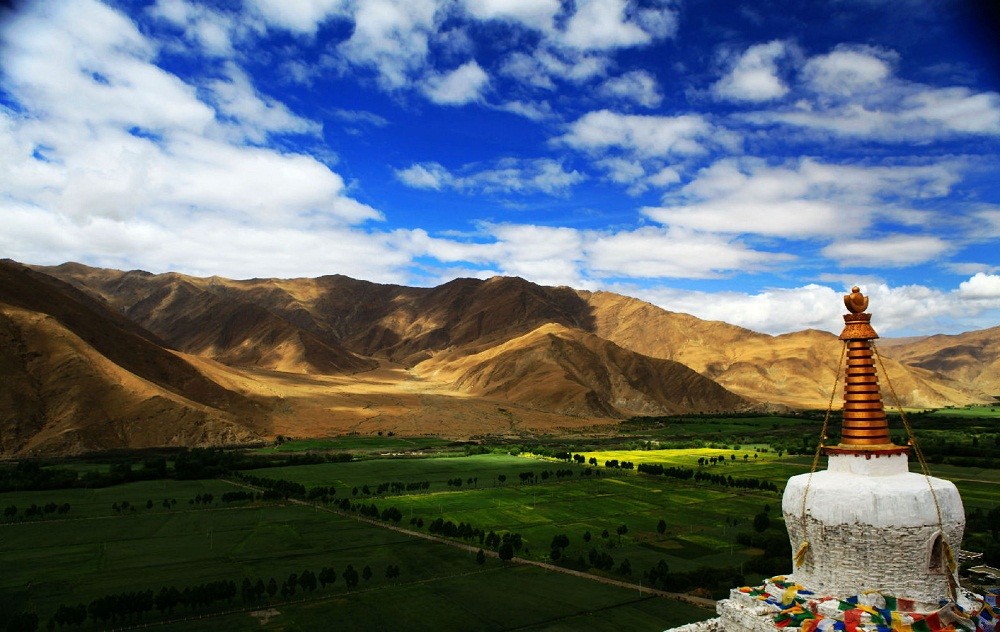 On second day, you will visit to Yungbulakhang and Traduk Temple, then you will drive 25 km, south to Samye monastery. which is the oldest and the first monastery in Tibet. From Tsetang you will continue your drive to Lhasa, you will be stay over night at the Hotel in Lhasa.
Day 3-4) Lhasa sign seeing.
Visit to Potala palace, Jokhang Temple, Norbulingkha, Sera monastery, Drepung Monastery and Nechung monastery :
you will be visiting in various attraction, including Potala Palace, Jokhang Temple, Sera monastery and the Norbulingkha (the summer palace of Dalai Lama)
Day 5) Drive from Lhasa to Gyantse via Yamdrok lake and Carola Pass:
You will begun your day little earlier and after the break fast in hotel, you will travel to Gyantse. You will arrive a Yamdrok Yumtso lake by the noon. We will stop at the lake to take some time to take the picture and enjoy the view of magnificent lake. You will then continue to drive along the lake to the Tibetan town of Nangartse for lunch. After the lunch you will continue to travel towards the destination of the day at Gyantse. On your way you will stop to the Carola pass.
Day 6) Drive from Gyantse to Shigatse via Shula monastery: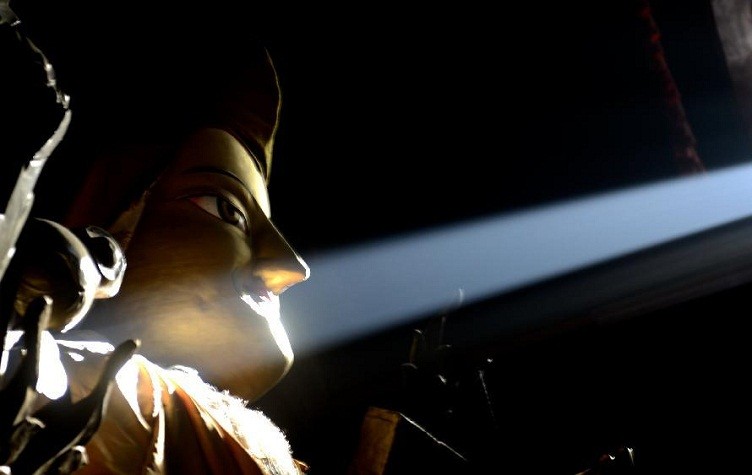 In the morning you will visit the Gyantse pagoda and Palchoe monastery. After visiting the attraction we will continue to travel to the City of Shigatse. City of Shigatse is a second biggest city in Traditional Tibet. Tashi lhunpo the seat of successive Panchen Lama is also located there. Once upon arrival we will visit the beautiful monastery of Tashi lhunpo monastery. On your way to Shigatse you will visit the Shalu monastery. Shalu is an only monastery in Tibet which house the original Newari style painting. The monastery also has huge influence from Han architecture and Nepalese painting. You will stay over night at Shigatse monastery.
Day 7) Drive back to Lhasa:
Day 8) Visit to Ganden monastery and Drakyerpa: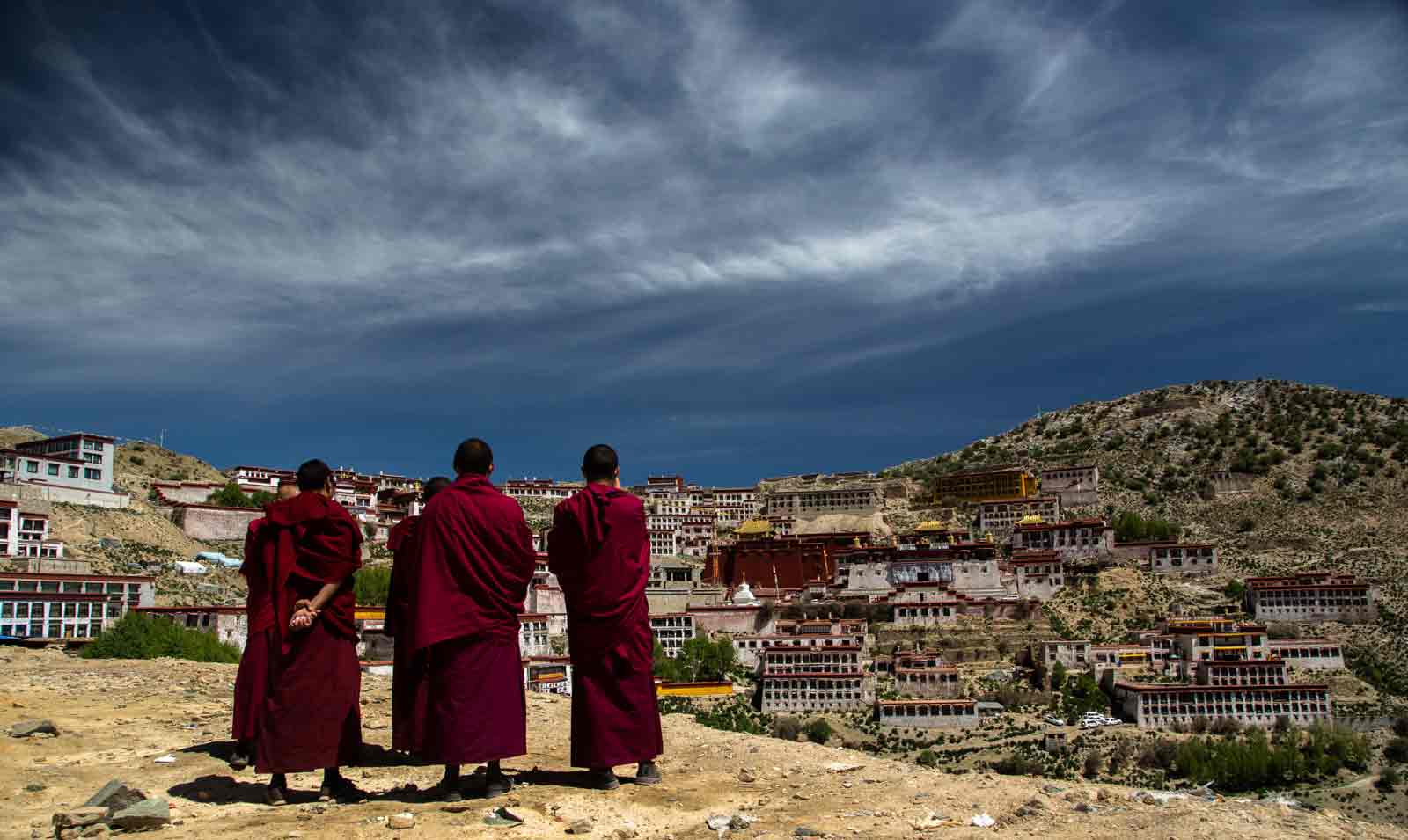 Ganden monastery is at about 50 km from Lhasa. and Drak Yerpa is at about 20 km from Lhasa on same route. if you want to do the day to these two monastery, we will do it on fourth day before leaving Lhasa.
Day 9) Departure: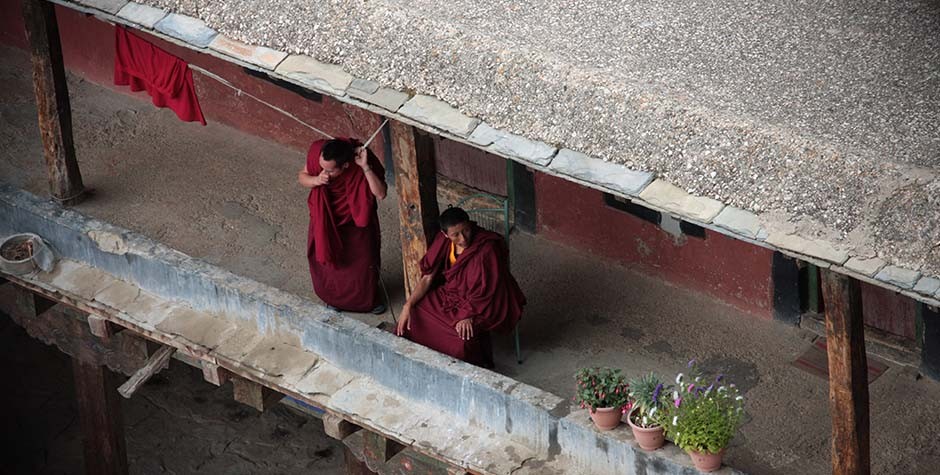 You can add one more day to visit Namtso
Optional ) A tour to Namtso. Add one more day.
On way back from Shigatse. If you would like to visit the heavenly lake of Namtso we can take the route to Namtso from Shigatse instead of coming back to Lhasa. we will spent a night there in Namtso. you will see a very beautiful sun rise over the lake in the morning. after the sunrise we will drive back to Lhasa. on our way back we can go visit the Tsurphu monastery.
Please book the tour a month before the real date of visit. i need at least 17 days to process the Tibet Travel Permit
The copy of your Passport and the Visa has to be clear enough to read all the letter on it. The copy of passport must be of the passport one which you have or have your visa on.
please read this page for clear concise information about traveling to Tibet and thing to do before travelling into Tibet.
Remember coming in from Nepal and china is different. if you are coming from Nepal (flight or overland), you need to have visa applied for PRC embassy in Kathmandu. We will send your visa invitation to friend agency in Nepal.
Traveler Reviews brought to you by
itibet travel, Lhasa

1 Dan Jie Lin Lu, Chengguan Qu

,

Lhasa

850000

,

China
42 Reviews
Ranked #15 of 39
Outdoor Activities in Lhasa
TripAdvisor Traveler Rating:
true
Recent Reviews:
These reviews are the subjective opinions of individual travelers and not of TripAdvisor LLC nor of its partners.
© 2017 TripAdvisor LLC
Responsible Tourism
We are fully committed to responsible and Sustainable tourism practice in Tibet. We have a privilege to be able to host you in Tibet, yes we also understand that we have a responsibility in protecting and contributing back to nature and our local follow people and economy.
We are a Local Tibetan travel agency in Lhasa.  Our agency is 100% staffed with local Tibetan tourism professionals. We only hire local Tibetan guides and other tours crews. We used service from local business only. 100% of the travel money goes to local Tibetan families where you are visiting. We use 20% of the net profit into Environmental conservative projects with local governments and individuals.
We are all born in Tibet. We know how important Tibetan environment is for the eco-system of the entire world. We will love of mountains, glacier, and rivers. We will do our best to reduce environmental impact from your tours in Tibet.
Following are Our ways:
No Plastic Bottles in the tour
We will provide your drinking water in a bigger container, each and every traveler are request to bring their own reusable water bottle. In this way, we can reduce hundreds of water bottles each tour against few big container, which we can later reuse.
Incentives on guide and Driver
We provide incentives to our guides and drivers base on their initiatives in conserving the natural environment. We often decide not to hire guide how are unethical toward sustainable and responsible tourism.
Staff Training every winter
Winter is a low season in Tibet tourism, we always use this window of opportunity provide skills required for Responsible tourism, Sustainable tourism practice, first Aids and emergency first responder training. One of our managers is certified Humanity Supply Chain management from by fritz institute. We also work closely with individuals from Tibetan Village project, Tibet Eco Travel initiatives and Local Tibet Red Cross society and other NGOs.
We plan a tree for every three tours.
Every spring we plant trees for every three tours we organize in Tibet. Tibet's weather is very harsh for a young sapling to grow with a help. So we would buy the trees and ask local farmers to adopt trees. We Tibetan consider planting a tree helps themselves in holistically. So far are we are very successful in planting trees against the small number of tours we organize. We hope in future we will work closely with local government to plan trees with their help.
Smaller group size
We do not believe in touristy tours for Environmental Impact. Traveling in groups of small numbers has less impact on committed in an area than traveling in the 60s to 70s people together. So all our tours are less than 12 people normal road travel and less for trekking tours
Trekking tours and environmental care in the wilderness of Tibet
During your trekking in Tibet, you will be walking across a very fragile ecosystem.

  

We do take extra care in our trekking tours preventing environmental effects.
Following are how are take care of our environment our trekking tours.
We nothing leave nothing behind.
We make sure we take all our rubbish and leave nothing behind.
We protect the grassland
A little destruction on Tibet's fragile environment is irreversible. So, in the trekking tours we will not make drainage surrounding your tent, rather we will provide trekkers with a better tent with bathtub style floors to prevent rainwater getting into your tent. We will not dig the grassland and put small tent to make a toilet. Even when we try to the put the grass back, it is not the same. So when you are answering your nature called please enjoy the nature. Maybe you are you will not enjoy the natures call in the wilderness for sometimes.
Collecting the garbage along the way.
We have a saying in Tibet, if you can't help, don't harm. Here is our helping part. We always extra yaks carrying the Garbages, our yak men will be collecting while waiting for the clients at the campsite. Yak man walks faster than all and they have a free time at the camp. While cook prepares for meals and drinks, We pay yaks men's incentives in collecting the rubbish around the camp.
We always identify our business as a social enterprise. We dedicate 30% of our annual net profit to Social and environmental projects. Every winter we will buy a huge amount of winter cloth from the market for small children to donate to schools. In this way, we are providing the warm winter cloth for children and encouraging them to go to school.
Any purchase related to business, we do with the local business. We also encourage travelers to purchase the products directly from the local producer, which is why we always trees for guide to take the visitor to the local handicraft centers and producers.
Whenever there is someone need for medical help. Our company staff member would gather money for it. The management has decided how much ever is donated by our staff, Company will double that amount by donating the equal amount, what has been collected from the staff's members. And all our staffs are very generous.
We always inform all our clients about local customs, beliefs, and ethics. So that it would be easier for our home visit, and culture programs.