Lhasa to Kathmandu tour 10 days
Destination

:- 

Lhasa

, Ganden monastery (optional), Drak yerpa hermit, Gyanste, 

Sakya monastery

, 

Shigatse

, Mount Everest Base Camp and Departure into Nepal 

Duration:- 10Days and 9 nights

Difficulty: Medium

Best Time to Travel:- April to February
Attractions of Lhasa to Kathmandu tour:
Potala palace, Jokhang Temple, Norbulingkha (the Summer palace), Sera monastery, Drepung Monastery, Nechung monastery, Ganden monastery, Drak yerpa hermit, Yamdrok lake, Gyantse monastery, Tashi lhunpo monastery, and North Everest Base Camp.
Experiences:
Experience local Tibetan life by participating in their life.
Visit all the cultural and architectural marvels of Tibet.
In Lhasa you can eat and drink tea with locals and take part their group dance in the park.
Visit all the attractions of Tibetan civilizations to greatest of the great building in Tibet.
Learn about the basic teaching of Buddha from your Tibet tour guide.
Drive along the mighty Yarlung Tsangpo river.
Travel to Everest base Camp with hardship and enjoy mesmerizing view to Mount Everest from Tibet.
Lhasa to Kathmandu tour is the most popular choice for the travelers. This tour consist all the tourist attractions in Lhasa, in central Tibet and the Mount Everest Base Camp. The tour will start from Lhasa, where you will stop for three days which gives you the great opportunity to get proper acclimatization and it also gives you a great opportunity to explore the local culture and local way of life.
Then gradually you will be visiting the great town of central Tibet and then to Everest Base Camp. After visiting the Everest Base Camp, You either return to Lhasa to return back to your next destination or you can continue into Nepal.
Best suit for: Every One
Day 1) Arrival and acclimatization
We will welcome you at the Airport or The Lhasa train station. Then you will be escort to your hotel. It is always advice the travelers to take a good rest for proper acclimatization. please do not any activities which would lead you to dehydrate, like taking bath. And avoid hard work for the first day. Many traveler prefer to take a nap. by the evening i will come to meet you at the hotels and discuss about the itinerary and other stuff. If time let we will have a dinner at Tibetan restaurant.
Day 2) Lhasa sign seeing.
Visit to Jokhang Temple and Sera monastery
In the morning after having your breakfast your guide will meet you at the hotel. Then you will first go to the Jokhang Temple, the holiest temple in Tibetan Buddhism. Since you hotel is in the Tibetan quarter of Lhasa city, you will walk to the Jokhang Temple. After visiting the Temple you can some time to explore the Old Lhasa city by your own for couple of hours.
The guide will fix you a time and place to visit. In the afternoon, you will visit the Sera monastery. This is a most well-preserved monastery in Tibet. The monastery you can sit in the courtyard where monks will be debating on Buddhist philosophy. you can stay there for some times. this is a very good opportunity for many travellers to take a picture of monks debate. You can tell your guide to give you some free times to explore the monastery by your own, if you would like to live in peace for some times
Day 3) Lhasa sign seeing.
Visit to Potala palace, Norbulingkha (the Summer palace), and Drepung Monastery, Nechung monastery (There are near by)
In the morning you will visit the grand Potala palace. Your guide will fix and time as per the ticket timing. please do not bring any drinking water or any liquid to drink. you will be ask to either drink it or throw it at the check point. Plus please do not take a picture inside of the palace is restrict. there is a time limited of two hours to stay in side the palace to fit in all those travelers in limited time and state of vulnerability of century old palace against thousands of visitor alike. you guide might hurry you. But if you would like to see some thing or spend a few moment in specific place please let know her.
After the visit is over you will be descending from back side of the palace. I always take my group to take a rest and have a tea with locals in tea shop in garden. many travelers like it. Yet prepare to have a load of people focusing on you. its new to them, if you don't look Asian. but a smile and cheerful aptitude would do the cure and would make it a memorable time. in the garden there is a small island in the pool. the temple is dedicate to the King of Nagas, living in our world yet not visible to our eyes. you might want to visit it. If you are a family travelling with a children i would suggest you to rent a paddling boat and paddle in the pool.
after spending few times in the garden, then i would suggest you to go to Norbulingkha.There is Tibetan restaurant near the Norbulingkha which serves a very good Tibetan food. you will then visit Norbulingkha palace. please buy a bottle of water before entering the gate. It is a not a single one building palace. its more like a resort with one palace for two Dalai Lamas.
After the Norbulingkha Palace, your guide will ask you if you still have the visit Drepung Monastery and Nechung monastery. If you do, then you can visit the Drepung monastery and Nechung monastery. Nechung is find at the foot hill of Drepung monastery. in total this two monastery would take about two hours. beware that there is a quite a lots of high stair case you have to climb up to.
Day 4) Drive from Lhasa to Gyantse via Yamdrok lake and Carola Pass  Distance: 263km  Drive: 6hrs
It is advise to start the journey little earlier in the morning. So in most of the cases we leave Lhasa at 7 in the morning after having breakfast at your hotel. by 11:00 Am you will reach the Kampa-la pass (4700 m) . The car will stop here for some time of the beautiful view to Yamdrok Lake below the pass and the mighty mount Mount Nojin Kangtsang (7191 meters). After some times at the pass for the picture, we will then drive down to the Lake. It is about a 15 minutes drive and we will descend about 700 meters to the shore. We will stop at the shore and you will have some times to enjoy the beautiful lake from its shore.
After the Lake we will continue to drive to the Nangartse town for lunch. From Yamdrok lake to Nangartse is 50 kms and we will drive along the shore until we divert to the Town. If you are traveling during the winter you can see lots of wild birds on this road. It is advise to bring a binocular if you are bird lover. Once when we reach the town we will stop here for the lunch and after the lunch you can explore this little Tibetan town for some times.
You will then continue to Gyantse town. You will reach at the Gyantse town about the 3:00 pm. We will then check in to our hotel for the night and then we will continue to visit the Gyantse monastery. Visiting the monastery would take about one and half hours. If you still have some energy, we can visit the Gyantse fort.
Day 5) Drive from Gyantse to Shigatse via Shula monastery  Distance: 95kms  Drive: 2:30hrs
You will start you journey at about 9:00 am. Once when you drive out of the Gyantse town, we will stopped at photography spot outside the town. From there you can see entire town of Gyantse including its monastery, stupa and the fort. It is one of my favorite place in Tibet to take picture.
From Gyantse we will first go to Shalu monastery. Many travel and tour operator in Tibet skips in their itinerary. But to me it is a must place to visit. The painting in side the monastery is very different. Those are the original Newari style paintings.
After Shalu Monastery we will continue to Shigatse. On arrival to Shigatse we will first visit the Tashi lhunpo monastery. Built by the first Dalai lama and official residence of Penchen lama. Then we will drive to the hotel and rest of the day is free for you and the group members. But i will have to go to apply for the permit for Everest base camp.
Day 6) Drive to new Tingri via Sakya monastery Distance: 286kms  Drive: 7hrs
We will start our day little earlier today to have more time Sakya monastery. We will drive on friendship road. From Tibetan town of Lhatse, we will take a detour to Sakya monastery. The monastery is a main principle monastery of the Sakyapa school of Tibetan Buddhism. The monastery looks like a medieval fort. This architecture and painting of the Sakya monastery is completely different form any other attraction you will visit in this tour. There are lots of thing you can see in the monastery that is why we leave from Shigatse earlier. After the Sakya Monastery we will continue driving to Tingri and we will stop for the night before going up to Everest base camp.
Day 7) Drive to Everest Base Camp  Distance: 110kms  Drive: 4hrs
If you would like to see the sun shine over the mighty Himalayas and Everest in the morning you will have to start the journey earlier before sunshine. I always recommend all the travelers to leave before the sun shine to see the beautiful sun shine over Everest and its sisters mountains. Once when we reach at the Rungbuk monastery. We will take some time in our tent guest house and then we will go ahead to Everest Base Camp. We can't take our car and we will have to either take the Eco-bus or walk up. Walking up is about four kilo meters and could take about two hours. There is a small cave of Guru padmasambahva. You can visit if you walk.
We will spent a night in EBC in the tent guest house. The tent could become smoky some times. If you think you have an altitude issue, we can return back to Thingri. Please be decisive and decide before every one sleeps.
Day 8) Drive from EBC to Zhangmu Distance: 253kms  Drive: 7hrs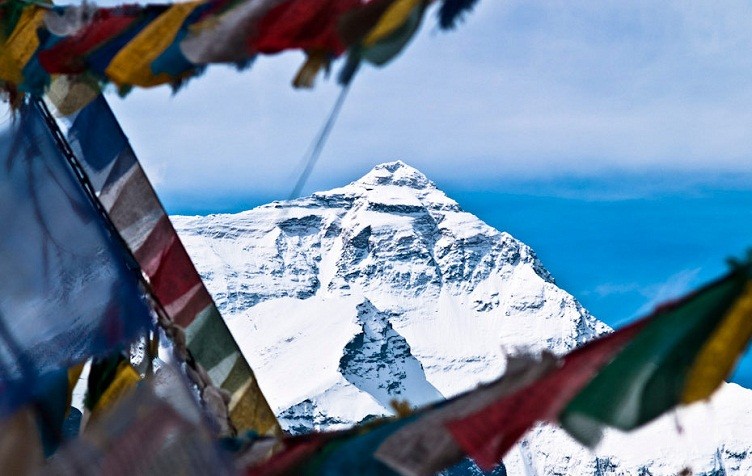 oday you will have one more opportunity to get close with mighty Everest. Its recommended to try to get up early and go near the Everest to see the beautiful sun shine over it. After the sun shine we will go back to the car and drive to Zhangmu. We will spend the last night at the town before we leave to Nepal the Next morning.
Day 9) Departure
It's a departure day for you. Your guide will assist you at Custom at the border. they will be plenty of Jeep leaving to Kathmandu. If you need a private car arrangement we can help make arrangements
Please book the tour a month before the real date of visit. i need at least 17 days to process the Tibet Travel Permit
The copy of your Passport and the Visa has to be clear enough to read all the letter on it. The copy of passport must be of the passport one which you have or have your visa on.
Please read this page for clear concise information about traveling to Tibet and thing to do before traveling into Tibet.
Remember coming in from Nepal and china is different. if you are coming from Nepal (flight or overland), you need to have visa applied for PRC embassy in Kathmandu. We will send your visa invitation to friend agency in Nepal.
Please read our terms and conditions before booking the tour with us.