Qinghai to Tibet Highway Cycling Tour
Tour Route

:- Golmud, Kunlun Mountain Pass, WudaoLiang, Tanggula Mountain Pass, Nagqu, Namtso and 

Lhasa 

Duration:- 18 Days and 17 Nights

Difficulty: Hard

Best Time to Travel:- May to September
Attractions of Tour to Everest north base camp:
Golmud, Kunlun Mountain Pass, WudaoLiang, Tanggula Mountain Pass, Nagqu, Namtso Lake, Potala palace, Jokhang Temple, Norbulingka (the Summer palace), Sera monastery, Drepung Monastery, Nechung monastery.
Experiences:
Conquering the Kunlun Mountian Passes and Tanggula Mountain Passes to challenge your endurance.
Admiring the amazing views of Namtso Lake, the snow-capped mountains, and alpine pastures.
Camping in the wilderness of the Qinghai-Tibetan Plateau
Explore the various architecture marvels of Tibet.
Eat different Tibetan fast food with your Tibetan friend.
Visit the Grand Potala Palace, Jokhang temple, and monasteries in Lhasa.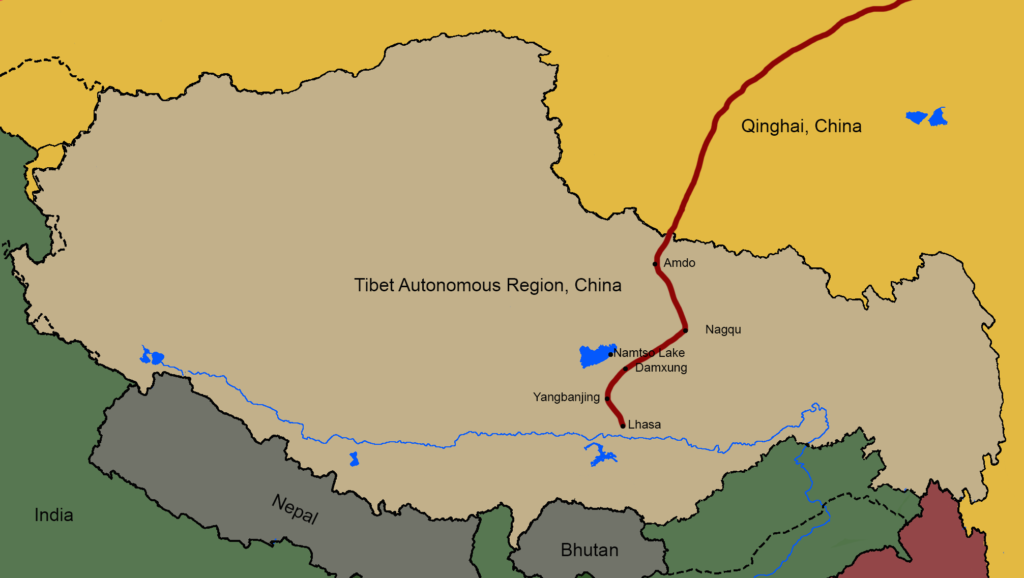 Qinghai to Tibet Highway cycling  is Cycling Tour across Tibetan-Qinghai  plateau which starts from Golmud in Qinghai to Lhasa in Tibet.  This rejuvenating and Enlighting cycling with a great view of Natural Landscapes full of snow-capped mountains, Pasture and Tortoise lakes. But this tour comes with extreme climatic and steep ascending to some of the highest Mountain Pass in the world.
We will ride across the steppes Changthang grassland and cross over the high mountain passes on Kunlun Mountian and Tangula Mountain.
As you enter into the Tibet you will experience a unique Tibetan Culture. At Lhasa, you will visit some its most popular attractions including the Grand Potala Palace and Barkhor District
Best suit for everyone
Day 1) Arrival in Xining, Elevation: 2212m
Our guide will welcome you at the Xining Airport and transfer you to the Hotel.
Day 2) Xining to Chakazhen, Distance: 296kms, Elevation: 3100m
For this first day, we will drive to Chaka Country. Along the way, we will visit one of the most popular Tibetan Buddhism Monastery in Qinghai.
The Monastery of Kumbum is built where the Tsongkapa was born. Tsongkapa is the founder of Tibetan Yellow Hat sect. The monastery is located at about 28 kilometers from the Xining City
After visiting the monastery we will continue to Chakazhen.
Day 3) Chakazhen to Golmud, Distance: 514kms, Elevation: 2817m
In morning after the breakfast in the local restaurant, we will visit the Chaka Lake. This salt lake is located in Qaidam Basin. The meaning of word Chaka means Sea of Salt in the Mongolian language.
At the lake, we will take the tourist train to the Salt Mine. You will find the salt in different size and shapes.
The surface of the salt lake so reflective that you can see the reflection of the cloud above, and the entire horizon including Nomads camps, herds, and mountains.
We will drive to the Golmud town after the visit.
Day 4) Golmud to Nachitai Country Distance: 93kms, Elevation: 3600m
This is the beginning of actual cycling tour. We will start our south on the Qinghai-Tibet Highway along the Kunlun river.  Little further we will disappear in the dessert. After few hours, we'll reach a gate, The right pillar on the gate announces the Kunlun Range. The range we will conquer in the next coming days, ascending from 2,800 meters to the 4,767-meter of the Kunlun Mountain Pass, before we will descend into the Tibetan Plateau. It is almost gently uphill terrain all the way. After reaching Nachitai, we may go to visit the famous Kunlun Holy Spring and feel refreshed with its cool water.
Day 5) Nachitai Country to Xidatan Distance: 38kms Elevation: 4409m
Today we will cycle for just 38 Kilometers to Xidatan. On our way, we will cross over the highest bridge in Qinghai-Tibet railway. After the bridge, we will also stop over at Mount Kunlun Global Geopark. Upon arrival, we will take a rest for acclimatization before heading to Tibetan Plateau.
Day 6) Xidatan – Kunlun Mountain Pass (4,767m) – Suonandajie Protection Station (4,479m), Distance: 88km
In the morning we will get up earlier to see the beautiful sunshine over the Yuzhu Peak 6178m. This is the highest peak in the eastern Kunlun range.  We will ride a long gentle uphill towards the first pass on Qinghai-Tibet Highway, The Kunlun Mountain Pass.  As we ride we may see some rare wild animals of the plateau.
After crossing the mountains pass, we will ride along the eastern border of  Changtang Nature reserve where we might see some Tibetan Antelopes and  Other wild animals. we will camp for a night at the Protection Station.
Day 7) Protection station to Wudaoliang, Distance: 55kms, Elevation: 4621m
Today we will ride freely on the pristine pasturage plain of Changtang Nature reserve. Galloping in the clear blue sky.  If the journey is from June to September, you might have a chance to see thousands of Tibetan antelopes migrating through a Chumaér River Bridge. After Pedaling up the hill we will reach Wudaoliang. In this small town, we can find shops, restaurants, and guesthouses.
Day 8) WuDaolaing to Tanggulazhen, Distance: 147 km Elevation: 4543m
The hardest task is to cycle about 70kms, Over Fenghuo Mountain Pass (5010m). As the name means Wind and Fire. The entire mountain region looks red as raging fire under the bright sun and the wind is very strong. After the pass, it is a long easy descent to Tanggulazhen. This town is the biggest town in Qinghai-Tibet highway and it is good to stock before heading.
Day 9) Tanggulazhen to Yanshipingzhen, Distance: 92 Elevation: 4717m
Today is an easy day, we don't have much ascending and Descending in today's 90km. We will reach Yanshipingzhen. We will take a good rest for we will have to cross over with Tanggula Mountain. The line dividing Qinghai and Tibet Autonomous Region.
Day 10) Yanshipingzhen to Toudaoban, Distance: 122kms Elevation: 5100m
Today we will conquer the highest point of the Qinghai-Tibet Highway, The Tanggula Mountain Pass at 5231m, we will tackle 47km uphill to the top of the pass. After the pass we will see dramatic changes in the scenery, we are now in Tibet. We will reach our today's destination, Toudaoban. Stay overnight at the service station. This service station is the world highest highway keeper's house.
Day 11) Toudaoban to Amdo county,  Distance: 64kms Elevation: 4689m
After a small descent, we will have to ascent for  28km to reach a Small Tanggula pass (5010m). After the pass, we will padel along a very long downhill pass into the valley with many villages. Our destination for the night is Amdo County.
Day 12) Amdo County – Shengeligong Mountian Pass – Nagqu, Distance: 136km Elevation 4514
Today we will undertake the laborious, and steepest climb in this Adventure. The Challenge is 7km cycling along the steep and winding Mountain road to Shengeligong Mountain Pass (4881m). After the pass we will start the downhill journey to Nagqu, This is prefecture-level city and biggest along the route after Golmud.
Day 13) Nagqu to Guluzhen, Distance: 93km Elevation 4695m
Today we will have a little gentle uphill and road condition is good. Our stop for the Night in Gulu Town or GuluZhen. Overnight in a guesthouse at Gulu Town.
Day 14) Guluzhen to Damxung, Distance: 72km Elevation: 4290m 
Today we will continue to Damxung. After a rest in Damxung, I-Tibet travel support vehicle will transfer the group to visit the Namtso Lake. Vast grassland spreads around the lake and makes the Namtso Lake looks more charming together with the blue sky and white clouds. In a sunny day, the crystal waters of Namtso Lake and the snow-mantled mount radiate with each other. All the breath-taking sights will drive our fatigue out and make us relaxed and joyful. The day's wonderful ending is the glory of the sunset over the lake. Stay in a guesthouse or resort tents by the lake. Overnight stay at Namtso Lake.
Day 15) Damxung to Yangpachenzhen, Distance: 74km, Elevation:4295m
Enjoy the clear morning by the lake and the stunning view of the sunrise. If time permits, we also can hike along the lake shore to Tashi Dor Island to explore the meditation caves. After the sightseeing, we'll be transferred back to Damxung and continue riding to Yangpachen. Out of Damxung, the distant snow-capped Nyainqêntanglha will come into our sight and drive us to go forward. We ride up the trail dotted with green grass and clean current until reaching the Nyainqêntanglha Pass (4,620m) with panoramic views of our dramatic surroundings. Another big climb is waiting for us, Duonala Mountain Pass, leading us to the altitude of 4,629m. By now, we should cheer for conquering all tough climbs along the Qinghai-Tibet Highway. Then, a long descent leads us to reach Yangpachen, unique for geothermic hot spring. We can go to enjoy a comfortable bath in hot spring. Stay overnight in a guesthouse or tents.
Day 16) Yangpachenzhen to Lhasa, Distance: 93kms, Elevation: 3663m
Today we will embark a full day descending to Lhasa, Our final destination.  We will check into a hotel for a well deserve the shower and huge meals.
Day 17) Lhasa Sightseeing
Visit Jokhang Temple and Sera monastery
In the morning after having your breakfast your guide will meet you at the hotel. Then you will first go to the Jokhang Temple, the holiest temple in Tibetan Buddhism. Since you hotel is in the Tibetan quarter of Lhasa city, you will walk to the Jokhang Temple. After visiting the Temple you can some time to explore the Old Lhasa city on your own for a couple of hours.
The guide will fix you a time and place to visit. In the afternoon, you will visit the Sera monastery. This is a most well-preserved monastery in Tibet. The monastery you can sit in the courtyard where monks will be debating on Buddhist philosophy. you can stay there for sometimes. this is a very good opportunity for many travelers to take a picture of monks debate. You can tell your guide to give you some free times to explore the monastery on your own if you would like to live in peace for sometimes.
Day 18) Lhasa Sightseeing
Visit Potala palace, Norbulingka (the Summer palace), and Drepung Monastery, Nechung monastery (There are nearby)
In the morning, you will visit the grand Potala palace. Your guide will fix and time as per the ticket timing. please do not bring any drinking water or any liquid to drink. you will be asked to either drink it or throw it at the checkpoint. Plus please do not take a picture inside of the palace is restrict. there is a time-limited of two hours to stay inside the palace to fit in all those travelers in limited time and state of vulnerability of century old palace against thousands of visitor alike. you guide might hurry you. But if you would like to see something or spend a few moment in specific place please let know her.
After the visit is over you will be descending on the back side of the palace. I always take my group to take a rest and have a tea with locals in the tea shop in the garden. many travelers like it. Yet prepare to have a load of people focusing on you. its new to them, if you don't look Asian. but a smile and cheerful attitude would do the cure and would make it a memorable time. in the garden, there is a small island in the pool. the temple is dedicated to the King of Nagas, living in our world yet not visible to our eyes. you might want to visit it. If you are a family traveling with children I would suggest you rent a paddling boat and paddle in the pool.
after spending few times in the garden, then I would suggest you go to Norbulingka.There is Tibetan restaurant near the Norbulingka which serves a very good Tibetan food. you will then visit Norbulingka palace. please buy a bottle of water before entering the gate. It is a not a single one building palace. it's more like a resort with one palace for two Dalai Lamas.
After the Norbulingka Palace, your guide will ask you if you still have the visit Drepung Monastery and Nechung monastery. If you do, then you can visit the Drepung monastery and Nechung monastery. Nechung finds at the foothill of Drepung monastery. in total, this two monastery would take about two hours. beware that there is a quite a lots of high staircase you have to climb up to.
Day 19) Departure from Lhasa
Our guide and driver will transfer you to the Airport or train station for departure.
Please book the tour a month before the real date of visit. I need at least 17 days to process the Tibet Travel Permit
The copy of your Passport and the Visa has to be clear enough to read all the letter on it. The copy of passport must be of the passport one which you have or have your visa on.
please read this page for clear concise information about traveling to Tibet and thing to do before travelling to Tibet.
Remember coming in from Nepal and china is different. if you are coming from Nepal (flight or overland), you need to have visa applied for PRC embassy in Kathmandu. We will send your visa invitation to friend agency in Nepal.
Read our booking terms and condition on http://itibettravel.com/booking
Traveler Reviews brought to you by
itibet travel, Lhasa

1 Dan Jie Lin Lu, Chengguan Qu

,

Lhasa

850000

,

China
44 Reviews
Ranked #16 of 41
Outdoor Activities in Lhasa
TripAdvisor Traveler Rating:
true
Recent Reviews:
These reviews are the subjective opinions of individual travelers and not of TripAdvisor LLC nor of its partners.
© 2017 TripAdvisor LLC
Responsible Tourism
We are fully committed to responsible and Sustainable tourism practice in Tibet. We have a privilege to be able to host you in Tibet, yes we also understand that we have a responsibility in protecting and contributing back to nature and our local follow people and economy.
We are a Local Tibetan travel agency in Lhasa.  Our agency is 100% staffed with local Tibetan tourism professionals. We only hire local Tibetan guides and other tours crews. We used service from local business only. 100% of the travel money goes to local Tibetan families where you are visiting. We use 20% of the net profit into Environmental conservative projects with local governments and individuals.
We are all born in Tibet. We know how important Tibetan environment is for the eco-system of the entire world. We will love of mountains, glacier, and rivers. We will do our best to reduce environmental impact from your tours in Tibet.
Following are Our ways:
No Plastic Bottles in the tour
We will provide your drinking water in a bigger container, each and every traveler are request to bring their own reusable water bottle. In this way, we can reduce hundreds of water bottles each tour against few big container, which we can later reuse.
Incentives on guide and Driver
We provide incentives to our guides and drivers base on their initiatives in conserving the natural environment. We often decide not to hire guide how are unethical toward sustainable and responsible tourism.
Staff Training every winter
Winter is a low season in Tibet tourism, we always use this window of opportunity provide skills required for Responsible tourism, Sustainable tourism practice, first Aids and emergency first responder training. One of our managers is certified Humanity Supply Chain management from by fritz institute. We also work closely with individuals from Tibetan Village project, Tibet Eco Travel initiatives and Local Tibet Red Cross society and other NGOs.
We plan a tree for every three tours.
Every spring we plant trees for every three tours we organize in Tibet. Tibet's weather is very harsh for a young sapling to grow with a help. So we would buy the trees and ask local farmers to adopt trees. We Tibetan consider planting a tree helps themselves in holistically. So far are we are very successful in planting trees against the small number of tours we organize. We hope in future we will work closely with local government to plan trees with their help.
Smaller group size
We do not believe in touristy tours for Environmental Impact. Traveling in groups of small numbers has less impact on committed in an area than traveling in the 60s to 70s people together. So all our tours are less than 12 people normal road travel and less for trekking tours
Trekking tours and environmental care in the wilderness of Tibet
During your trekking in Tibet, you will be walking across a very fragile ecosystem.

  

We do take extra care in our trekking tours preventing environmental effects.
Following are how are take care of our environment our trekking tours.
We nothing leave nothing behind.
We make sure we take all our rubbish and leave nothing behind.
We protect the grassland
A little destruction on Tibet's fragile environment is irreversible. So, in the trekking tours we will not make drainage surrounding your tent, rather we will provide trekkers with a better tent with bathtub style floors to prevent rainwater getting into your tent. We will not dig the grassland and put small tent to make a toilet. Even when we try to the put the grass back, it is not the same. So when you are answering your nature called please enjoy the nature. Maybe you are you will not enjoy the natures call in the wilderness for sometimes.
Collecting the garbage along the way.
We have a saying in Tibet, if you can't help, don't harm. Here is our helping part. We always extra yaks carrying the Garbages, our yak men will be collecting while waiting for the clients at the campsite. Yak man walks faster than all and they have a free time at the camp. While cook prepares for meals and drinks, We pay yaks men's incentives in collecting the rubbish around the camp.
We always identify our business as a social enterprise. We dedicate 30% of our annual net profit to Social and environmental projects. Every winter we will buy a huge amount of winter cloth from the market for small children to donate to schools. In this way, we are providing the warm winter cloth for children and encouraging them to go to school.
Any purchase related to business, we do with the local business. We also encourage travelers to purchase the products directly from the local producer, which is why we always trees for guide to take the visitor to the local handicraft centers and producers.
Whenever there is someone need for medical help. Our company staff member would gather money for it. The management has decided how much ever is donated by our staff, Company will double that amount by donating the equal amount, what has been collected from the staff's members. And all our staffs are very generous.
We always inform all our clients about local customs, beliefs, and ethics. So that it would be easier for our home visit, and culture programs.